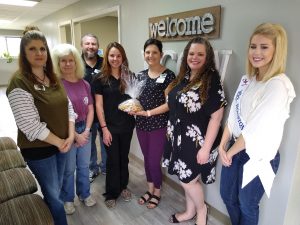 The Crockett Area Chamber of Commerce Ambassador Program is one of the most important programs the Chamber has to offer.
What is an Ambassador?
An Ambassador is a volunteer for the Chamber that represents their own company while also promoting Chamber events, programs, as well as new and existing Chamber members.
Program Benefits for the Ambassadors
Increased name and face recognition
Increased networking opportunities
Increased business exposure
Potential media coverage from attendance at Chamber events
Increased referral opportunities through other Ambassadors and networking with members
Recognition via "Ambassador of the Year"
What do Ambassadors do?
Serve as official CACC representatives at Chamber events
Ribbon Cuttings
Grand Openings/Ground Breakings
After Hours Mixers
CACC Festivals/Expos
Encourage Chamber membership and retention through visits to CACC members - "Cookie Patrol"
Encouraging new memberships to CACC
Who can become an Ambassador?
Owner and/or employee of CACC member business
Individual CACC members
If you have the time to attend 50% of CACC meetings and events